Click here if you are having trouble viewing this message.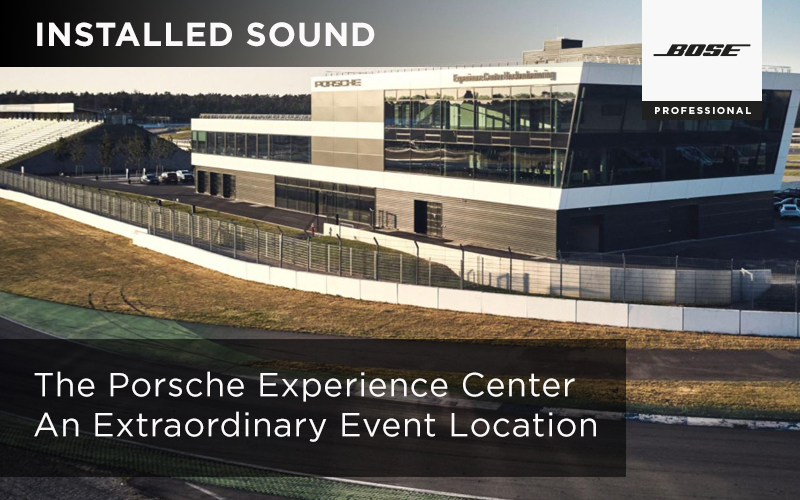 The Porsche Experience Center at the Hockenheimring offers its customers and fans all the unique experiences that Porsche stands for - with its own handling track, off-road course and dynamic area. Numerous Porsche models, all series and model derivatives can be tested as part of driving experiences. This in combination with a 1,000 square meter event area and flexibly expandable event and meeting rooms, which have been equipped with the latest presentation technology by the German Pro Partner multi-media systeme AG, make the Experience Center an extraordinary event location.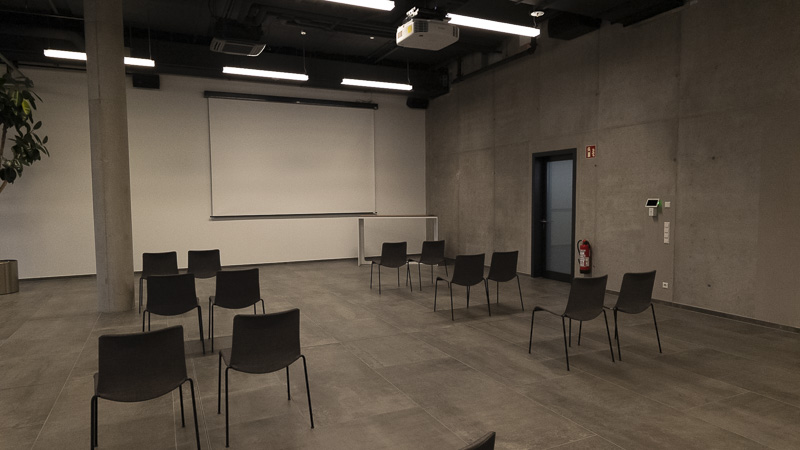 There are three conference and training rooms on the ground floor of the Experience Center that can be connected by opening folding walls. The rooms are each equipped with a powerful and versatile laser projector. The media technology is controlled in each room via a touch display. Each ofthese rooms is equipped with Bose RMU105 as well as RMU108 speakers, including a Bose MB210 compact subwoofer. Depending on requirements, a lectern with 2 wireless Shure microphones, a headset and a hand-held transmitter can be activated in the rooms. 
The customer experience center also has a conference room and exhibition space on the first floor, which can be booked for private or business events. The conference room is equipped with an 80" display, HDMI connection on the table, Barco ClickShare and a ceiling microphone from Shure. To meet the needs of this fully equipped conference room, the audio solution has been designed with Bose EdgeMax loudspeakers as well as a ControlSpace EX-UH Endpoint.
Within the restaurant and the adjoining balcony, Bose FreeSpace DS loudspeakers for background music have been installed. The loudspeakers are controlled via the central audio server, but can also be used with individual content via corresponding connection fields. The exhibition areas on the ground floor, 1st and 2nd floors are equipped with Bose loudspeakers from the slightly more powerful RMU series for an emotional video presentation on the monitor walls and Bose FreeSpace DS ceiling loudspeakers for subtle background music, with the option of playing individual customer music.
In the event are on the second floor, you can also find Bose FreeSpace DS100SE speakers, as well as on the roof terrace, which can be played with individual music via suitable connection panels.
Another requirement was universal media technology for customer events. We made this possible with a mobile Bose PA solution. Active Bose F1 systems, each with a matching subwoofer, were installed in a mobile table rack with an 8-channel mixer, 2 handheld transmitters and Blu-ray player with a USB connection for MP3 files.
The Porsche Experience Center Hockenheimring thus offers its private and business customers an exclusive offer by combining conference facilities with professional media technology and attractive supporting programs.
Statement from Porsche about the audio solution:
"Porsche relies on Bose in its vehicles, among other things, so it was obvious to look for an analogy in terms of loudspeaker equipment for the new Porsche Experience Center Hockenheimring. Bose and multi-media systeme AG have implemented a Porsche-appropriate sound in the building with the equipment in the PEC Hockenheimring."
Margit Frank
Head of Porsche Experience Center Hockenheimring
Porsche Germany GmbH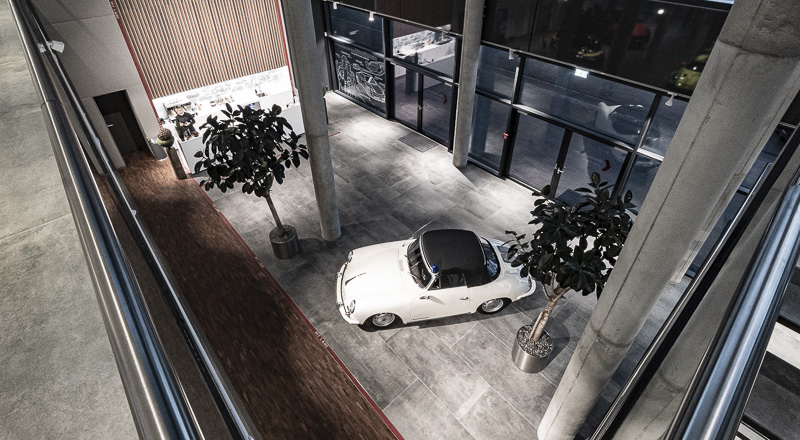 Bose Professional Products:
EdgeMax
DS 100SE
DS 100F
MB210
RMU105
RMU108
RMU208 
EX-1280C
EX-UH Endpoint
PS604D
PM8500n
PM8250N
WP22BU-D
F1 Model 812 + SubThis is a text block. Enter and edit your text here.
"As in many other projects, we were happy to have Bose by our side during the implementation of the installations. In addition to the possibilities of integrating the loudspeakers harmoniously into the extraordinary architecture of the location and of having a coordinated solution for every installation situation, it is always fascinating for us when the system then goes into operation for the first time. Especially for an event location, it is impressive how flexible the components are, both the pleasant sound system with background music, but also the loud dynamic levels, for example when presenting an emotionally charged new car.
It is reassuring to know in advance what you will hand over to a customer who has such high technical and design-oriented demands on their own products at the end of the project with Bose. 
Daniel Stoll
System Consultant Media Technology multi-media systems AG
Pictures ©Porsche und ©Bose

ELITE PALACE HOTEL "VANA SPA" IN
STOCKHOLM, SWEDEN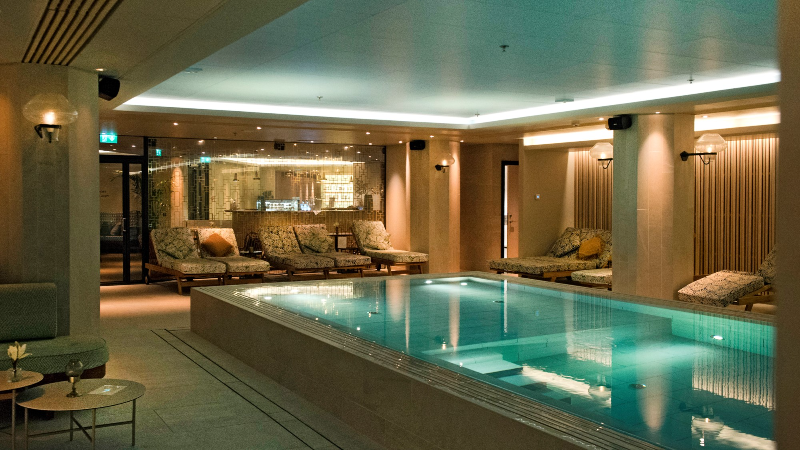 In the end of February 2020, the doors to Elite Palace Hotel new exclusive investment, VANA Spa and Gym, opened in Stockholm city center. Elite Hotels of Sweden have many spa and gym facilities within their hotel concepts already, but this is the first one out under their own auspices.
On just over 1,500 square meters, members, hotel guests and other visitors will be able to use cardio and gym machines and free weights - in addition, there is the opportunity for personal training.
In the spa area you will find both a pool and jacuzzi, as well as a steam shower, aroma room, and a steam and dry sauna. Bose Pro Partner Fremlab has worked with Elite Hotels of Sweden on over 20 projects the last years, so very early in the process Fremlab was selected as the audio supplier for the project.
One important focus area throughout the project was to find an audio solution that could blend into the interior in an elegant way without compromising with the sound quality or customer experience. The loudspeakers also needed to be waterproof to be able to equip the wet room areas. Initially the design included Bose DS16 for the hallways and dressing rooms, and FreeSpace Model 32 loudspeakers for the spa and gym areas. Although a bit into the process, Bose DesignMax loudspeakers became available. Because of the premium look and feel of the DesignMax series, it was decided to go for DesignMax models in the whole area and became Fremlab's first installation using DesignMax.
In the spa treatment rooms and surrounding areas a total of ten DM3C ceiling mounted speakers are installed, allowing the guests to enjoy relaxing background music during their treatments. The spa, gym and cardio areas has thirty-five DM3SE surface mounted loudspeakers installed as well as two B2 subwoofers in the gym.
In a separate part of the spa, you can relax in one of six rest beds while listening via headphones to four different music options that you select using Bose CC-3D. The spa reception area is equipped with eight DM2S as well as with a DM10S Subwoofer for extra bass.
The spa and gym facilities are powered by three PowerMatch 8250 and eight individual sound zones within the facilities are controlled digitally via Dante and Creston. Additionally, 2xXLR inputs allows for local mixer/microphone and DJ inputs as well.
Bose Professional Products:
DM3SE 
DM3C
DM2S
DM10S-Sub
B2 Sub
PM8250N
CC-1D
CC-3D
ESP-1240AD
"A close collaboration between us, Bose and the architects has been crucial throughout this whole project. We have had to be flexible and sometimes come up with solutions last minute to allow for the loudspeaker to go hand in hand with the feeling of the facilities. Although everything worked out extremely well. For us there is never a question of not using Bose in all our projects. Thanks to the support we get from the Bose team and the quality of the products, we in our turn make a return on the investment by choosing Bose which of course is important for our business."
Carl-Fredrik Malmgren
Owner Fremlab

SPECIAL BUNDLE OFFER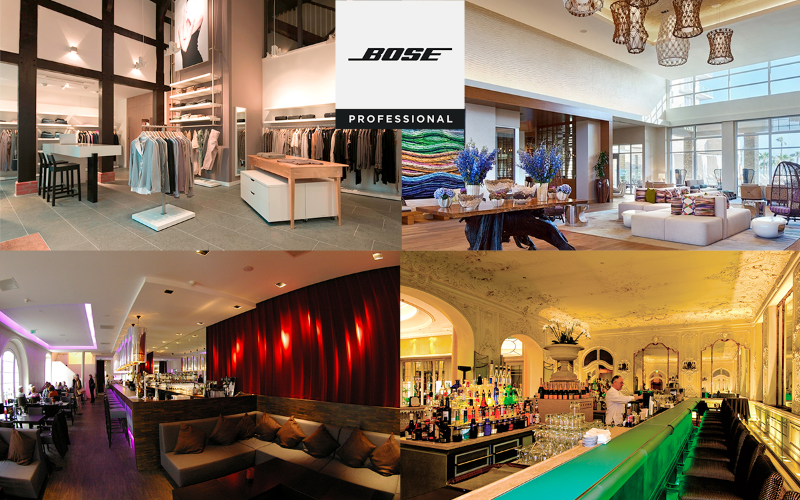 These are challenging times for all of us, and your customers are no exception. You are a highly valued Bose Professional dealer and we would like to help you become more competitive in segments such as retail and hospitality. To help you, we have a special limited time offer that will encourage your customers to invest in their business, while taking the current economic climate into account.
Please find all necessary details below.
To place an order or if you need more information, please do not hesitate to contact your local Bose Professional Territory Manager. 
Get your units before we are running out of stock!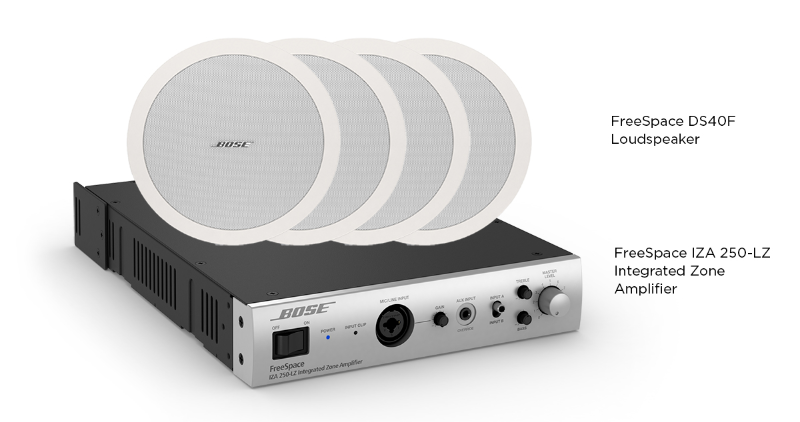 DETAILS OF THE BUNDLE
The bundle includes:
- 1x FreeSpace IZA 250-LZ Amplifier
- 4x FreeSpace DS 40F Loudspeakers
Minimum order quantity: 10 sets
Delivery time: 6 weeks
Dealer Price: 400 € net (each set)
Offer is valid until stock is depleted.
END OF LIVE ANNOUNCEMENT - PART 2

Several months ago, we made an End of Life announcement for a number of aging products in the Bose Professional catalog. This effort was to reduce overlap within the catalog and simplify product lines – with the goal of improving ease of selection and use for you, our valued resellers.
Since that time, we have continued to evaluate each SKU in our portfolio and have found several additional opportunities to further simplify the catalog and enable us to focus on the products that are most valuable and useful to you.
This bulletin lists each product family that is impacted. Recommended substitutions are also provided in the description of each product family below. A complete list of the affected SKUs and their expected final availability timelines is provided in the Appendix of this announcement.
Got News? Share your stories with us! 
Not only will they be featured here, but also on the global Bose Professional social media networks.
Bose Sverige
Bifrostgatan 38
431 44 Molndal
Sweden
Bose Professional
Roskildevej 22
2620 Albertslund
Danmark